St. Catherine Catholic School
2835 Kenilworth Blvd.

Sebring, FL 33870

PH: 1.863.385.7300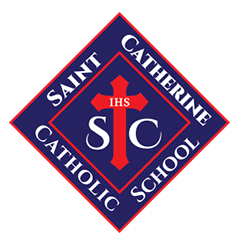 October 18 is a Day of Unity.
Students may wear an orange shirt to show unity as a part of anti-bullying month.
Blessing of Animals (pets)
We will have the Blessing of Animals on Wednesday, October 4th. Preschool/Kindergarten will celebrate during morning dropoff. The main school will celebrate during parent pickup in the afternoon. Pets will be kept in the vehicle for the blessing.
Hispanic Heritage Month
We are celebrating Hispanic Heritage Month, September 15 - October 15. Mr. Gillmore, Mrs. Alexander, and Mrs. Ramos are focusing on the Hispanic Catholic cultural influences in music, art, and language.
No School October 13! VPK will be open.
October 13 is a teacher workday. There will be no school except for VPK.
Little Caesar's Fund Raiser
Congratulations to our top 3 students who sold the most pizza kits in our Little Caesar's Fundraiser: Paige Bizzell (Kindergarten), Brenna Marrero (3rd Grade), and Claire Charite (PreK 4).
The First Quarter of the 2023-24 School Year Ends on October 12!
Time flies when you're having fun. The first 9 weeks is almost over.
Scholarships Available
Scholarships are available for qualified families. Click the Step Up link below for more info.
St. Catherine Catholic School provides a Christ centered education and a strong Catholic foundation where children can strengthen their relationship with God and prepare for life's challenges and their service to others.